Precision Aluminum Plate
We have two types of Precision Aluminum Plate : 5052 and 5083.
(1)5052 Precision Aluminum Plate
1)Product Description
Specific Notes:
*two surfaces precision milled
*excellent flatness
*stress relieved
*elevated strength
*very homogeneous
*very good corrosion resistance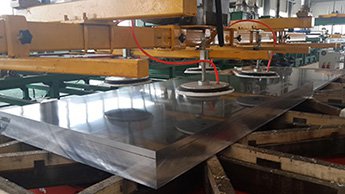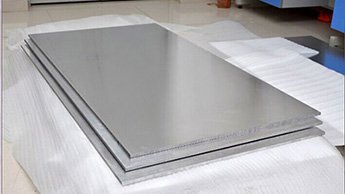 (2)Typical Fields of Application
*Manufacturing device of semi-conductor
*Manufacturing device of liquid crystal
*Manufacturing device of solar panel
*Industrial robot
*Office automation equipment
*Optical instrument
*Tooling and fixture
(3)Technical data sheet
Alloy´s Characteristics
Alloy
AMP5052
Type of Alloy
non heat treatable
Temper
homogenized and stress relieved
Surface
two surfaces precision milled, roughness ≤ 0.4 µm, foiled on both sides
Mechanical Properties
Typical values
Yield strength Rp0,2
[MPa]
60 – 90
Ultimate tensile strength Rm
[MPa]
160--220
Elongation A5
[%]
20 – 30
Hardness HBW
[HB]
45 – 60
Physical Properties
Typical values
Density
[g/cm³]
2.68
Module of elasticity
[GPa]
70
Electrical conductivity
[m/Ω · mm²]
19 – 21
Coefficient of thermal expansion
[K-1 · 10-6]
23.8
Thermal conductivity
[W/m · K]
130 – 150
Processing Characteristics
Dimensional stability
Very Good
Machinability
Good
Erodability
Very Good
Weldability (/ TIG / MIG / ERW/EBW)
Good/ Good/ Good/Very Good
Corrosion resistance ( stress cracking/seawater / weather)
Normal/ Good/Very Good
Highest Use temperatures ( long term/Occasional)
100/180℃
Polishability
Very Good
Oxidability(Technical/Decorative)
Good/Not application
Contact with food (according to EN 602)
Good
Tolerances
Thickness [mm]
Flatness [mm] 5)
Roughness
Width & Length [mm]
+/-0.12mm
≤ 0.35mm/m(T≤15mm)
≤ 0.13mm/m(T>15mm)
≤ 0.4 µm
0/+6mm & 0/+10mm
Standard Stock Sizes
Plate Dimension [mm]
1,470 × 3,000
in thickness of 6mm – 250 mm
Max Width:2500mm
2,500 × 3,000
Max Length:6000mm

Aluminium ingots made from especially developed materials based on our experience undergoes a final specific in-house heat treatment. Bypassing the conventional rolling process, our slabs are divided into plates on special saws. The sawing process is so designed that no stresses are induced into the material. The result are plates with extreme low-tension and precision-milled surfaces, very fine-grained, homogeneous micro structure and high strength values.
On stable portal milling machines with more than 2 m wide milling heads we generate precision accuracy and the unique surface characteristic for our Precision Aluminum Plates. Each precision plate is inspected in respect of thickness, flatness, surface roughness and finally PVC- coated for surface protection.
The available range of Precision Aluminum Plates covers all areas of application where precision in combination with higher strength values are required, such as construction of jigs & fixtures, all kind of gauges, all kind of table, indexing and transfer plates, special purpose machines and all parts that justify the term "precision part".
1,AMP5083-Aluminum Precision Milled Plate
(1)Product Description
Specific Notes:
*two surfaces precision milled
*excellent flatness
*stress relieved
*elevated strength
*very homogeneous
*very good corrosion resistance
(2)Typical Fields of Applications
*components requiring a lot of machining
*all kinds of side and back boards
*all kinds of base and table plates
*transfer- and indexing plates
*components requiring high strength values combined with very low residual stresses
*all kind of gauges
*displays for screens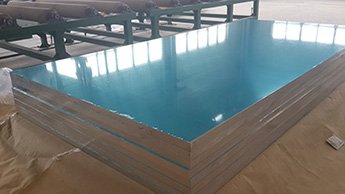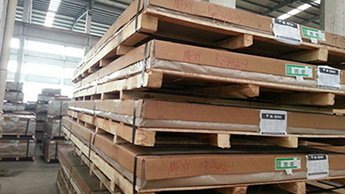 (3)Technical data sheet
Alloy´s Characteristics
Alloy
AMP5083
Type of Alloy
non heat treatable
Temper
homogenized and stress relieved
Surface
two surfaces precision milled, roughness ≤Ra 0.4 µm, foiled on both sides
Mechanical Properties
Typical values
Yield strength Rp0,2
[MPa]
110 – 140
Ultimate tensile strength Rm
[MPa]
220 – 300
Elongation A5
[%]
10 – 20
Hardness HBW
[HB]
70 – 85
Physical Properties
Typical values
Density
[g/cm³]
2.66
Module of elasticity
[GPa]
70
Electrical conductivity
[m/Ω · mm²]
16 – 19
Coefficient of thermal expansion
[K-1 · 10-6]
24.2
Thermal conductivity
[W/m · K]
110 – 140
Processing Characteristics
Dimensional stability
Very Good
Machinability
Very Good
Erodability
Very Good
Weldability (/ TIG / MIG / ERW/EBW)
Good/ Good/ Good/Very Good
Corrosion resistance ( stress cracking/seawater / weather)
Normal/ Good/Very Good
Highest Use temperatures ( long term/Occasional)
100/180℃
Polishability
Very Good
Oxidability(Technical/Decorative)
Good/Not application
Contact with food (according to EN 602)
Good
Tolerances
Thickness [mm]
Flatness [mm]
Roughness
Width & Length [mm]
+/-0.12mm
≤ 0.35mm/m(T≤15mm)
≤ 0.13mm/m(T>15mm)
≤ 0.4 µm
0/+6mm & 0/+10mm
Standard Stock Sizes
Plate Dimension [mm]
1,470 × 3,000
in thickness of 6mm – 250 mm
Max Width:2500mm
2,500 × 3,000
Max Length:6000mm
---